One of the latest and hugely popular privacy options for your residential or commercial property is horizontal fencing. In fact, many people are calling these styles the white picket fence of the modern age, due to property owners' recent high demand. But unlike their white picket counterparts or even the old standard of vertical wooden fences, these horizontally slatted designs offer much more durability, privacy and style for your exterior décor. Below, we examine these major benefits of horizontal fences so you can decide which type suits you best.
What Makes Horizontal Fencing So Popular?
Property owners have fallen in love with horizontal fencing because this construction style offers so many options for customization. In fact, the styling complements any type of building construction, from rustic to contemporary and ultra-stylish. Through your choice of materials and structure, you can add your personality to outdoor areas, whether those areas are for private or public use.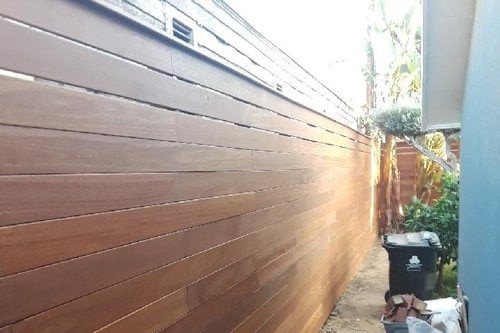 The Materials Are More Durable
One of the greatest benefits of horizontal fencing is its durability. This long-lasting sturdiness is particularly evident when compared to a traditional wood privacy fence. Although many factors like the age of the fence construction, materials used and installation quality all play a role in a privacy fence's lifespan, a fence with parallel slats simply has more staying power. This durability starts with the horizontal fence's frame, one typical built using metal posts and beams. There is quite simply no way natural wood or vinyl products can outlast time-tested steel.
Even today's pressure-treated wood products deteriorate, a natural decomposition and erosion that steel does not experience. Wood cannot stand up more than a few decades against wood rot, insect infestation and other damage. In fact, the wood at the ground level and buried by earth is the most vulnerable to this erosion. Metal posts of horizontal fencing are unaffected by the elements that take vertical wood fences down.
A Horizontal Fence Offers Greater Privacy
Horizontal fencing offers greater privacy options than vertical fencing, too. One option for this super modern fence is to use tongue-and-groove pickets. This type of fence picket locks together and leaves no gaps between slats. Of course this means the slats form a solid wall with zero visibility from one side to the other. With privacy comes greater safety for your whole family, residents of the property or commercial guests.
Horizontal Fencing Is More Stylish and Visually Appealing
With the privacy and durability benefits of horizontal fencing also come fantastic visual appeal that raises your property value. Besides adding beauty, the horizontal slats actually make your property look bigger. The fence structure is simple yet beautiful, consisting of a metal framework and slats between the frames to suit your design aesthetic. But this structure offers almost unlimited design possibilities.
For your horizontal fencing, you can choose from infill made of a wide range of materials. The most common materials include natural wood, stained wood, metal, vinyl and composite planks. Instead of just building a fence around your home or commercial property, your horizontal fence is an architectural feature. All of these design options are mounted to the structure that is secured to a concrete slab or directly in the ground.
Is Horizontal Fencing Right for Me?
Knowing whether horizontal fencing is right for you and your property comes down to exploration of your options, materials and the best fence contractors for the job. To meet all of these needs and ensure your ideal fence installation, contact the professionals of Los Angeles Fence Builders. We are the #1 most trusted fence builders in L.A. and offer years of experience in building all types of fencing throughout this region. Call us today at (424) 625-8561 for more information and a free estimate.