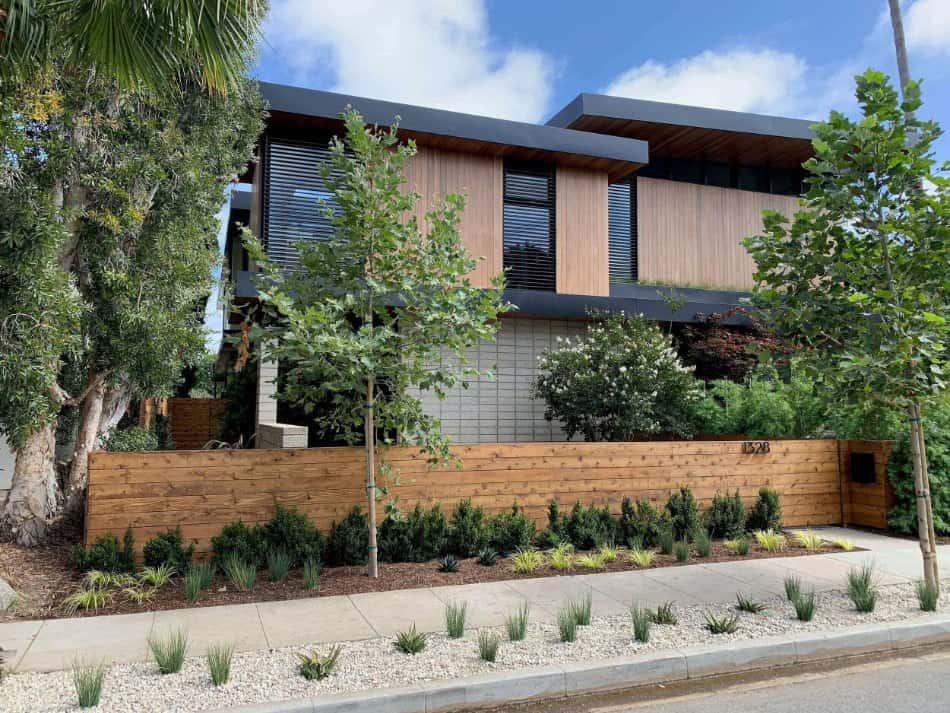 If you are a property owner in Los Angeles and are looking to add something to your landscape, you should consider a horizontal wood fence. Adding this type of fence will make your landscape more appealing. It is a good option when looking for a wooden fence, and need something unique for your property.
Are Horizontal Wood Fences More Expensive?
Typically, horizontal fencing is slightly more expensive than standard vertical style fencing. This tends to be the case because a high-quality wood board is needed to prevent from sagging in the future. Many times amateur fence builders will use an inexpensive board and as a result, the boards will sag and ruin the design. Sagging can set in as quickly as 3 months. Make sure when you are hiring a horizontal fence builder that they are using top-quality wood. This will ensure that your fence will look great and stay looking great for 10+ years.
How Much Does a Horizontal Fence Cost?
Horizontal fence prices differ depending on the size of your project, the material you are using, and if you are painting/staining your fence. Visit our Fence Pricing Guide to get a clearer idea of the cost of your horizontal fence project. For a free in-person consultation and quote, fill out the form on our website.
What Kind of Wood Should I Use For a Horizontal Fence?
Using hardwood like Ipe or Mangaris is a great choice for a horizontal fence. We recommend hardwoods because the natural grain that runs the length of the planks creates a modern fence look. Other types of wood that look great and hold over time are redwood and cedar. Also, another great reason for choosing redwood or cedar is both are naturally resistant to termites and decay. For this reason, both are used often for fencing projects and outdoor pergolas.
Hiring a professional wooden fence installation contractor is the best way to ensure that you get the results you want. We are a fence installation company that always offers our clients the results they desire. In our expertise, a horizontal wood fence enables our clients to enjoy all the benefits of this style of fencing.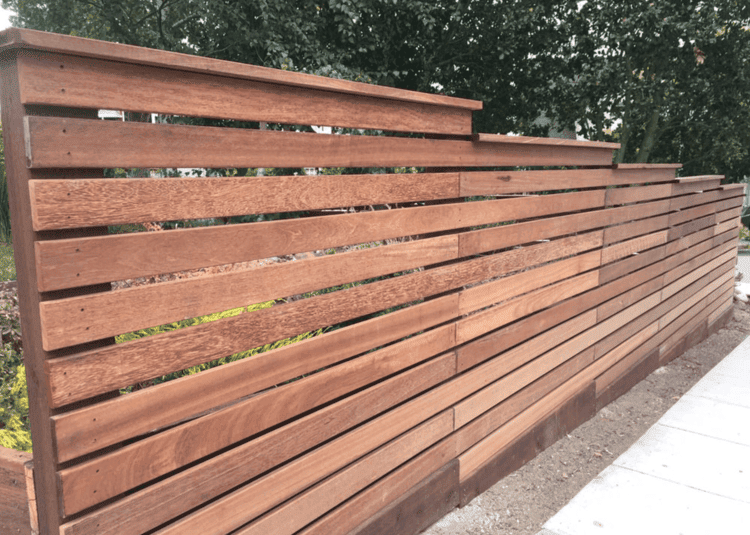 Benefits Of Horizontal Wood Fence
No Rotting At The Bottom
If you install your wooden fence with the wooden planks placed horizontally, you will prevent them from rotting at the bottom. The way the individual pieces of wood are placed ensures that they will not be touching the ground, which saves them from getting rotten because of too much moisture. With vertical wooden planks, you have to replace them every few seasons because they rot at the bottom even when the top is still in great shape. Installing a horizontal wooden fence saves you from spending more money replacing rotten planks and easily maintaining your wood fence.
Get A Free Fence Estimate Today
Variety Of Styles Available
One other advantage of a horizontal wooden fence is that it comes with various design options. It gives you a choice to make your property appear the way you want. For instance, you can choose woven designs, split rail, board on board, and several others. It means that your fence will not look drab like many others. You can make a statement using this type of wooden fence to make your landscape stand out. Having these styles installed by a professional will guarantee a better chance of a spectacular finish.
Horizontal Wood Fences are Customizable
Choosing a horizontal wooden fence for your home or business gives you an added advantage because you can have it made to suit your needs perfectly. You can have the wood stained to match the rest of your landscape or even have them coordinating with your gate. Whichever style you want that will make the outdoor area look pleasant, you can communicate to our team and we shall produce the results.
Less Wood is Wasted
When installing horizontal fences, the boards do not have to be cut to fit one size. You only have to do that with vertical fences. It means that you will not have to waste too much wood. If you want a seven-foot fence, you can install the boards horizontally to make the height without having to cut them.
Environmentally Friendly
Horizontal wooden fences are a good option because they will not damage your surroundings even when they rot. You can choose to stain them if you wish to prevent termite damage. It means that you do not have to use solutions that are harmful to the environment when you want to prevent the wood from being consumed by termites.
A horizontal wood fence is a great choice for your property because they blend well with any setting. Whether you install this type of fence for your business or home, you can make them an aesthetically pleasing and positive addition to the landscape of your property.
Call us to get a horizontal wooden fence installation contractor to work on your property. We guarantee excellent results and a long-lasting fence.
Why Choose Us Los Angeles Fence Builders?
Expertise
Our level of experience allows us to do a flawless installation that ensures a durable fence. We are well-versed with the various designs available, and always guide the clients during the process of choosing the design that is most suitable for their property.
Craftsmanship
Our unique and top-notch craftmanship guarantees that the clients get the results they want when they hire us. We always look to improve our standards by keeping ourselves updated on any upcoming techniques and designs that the clients will appreciate.
High-Quality Materials
The fences we install are durable because we never compromise on our high-quality materials. We install your fence with the best quality of wood. This way, you only have to do minor maintenance and repairs over the years and still have a beautiful and strong fence.