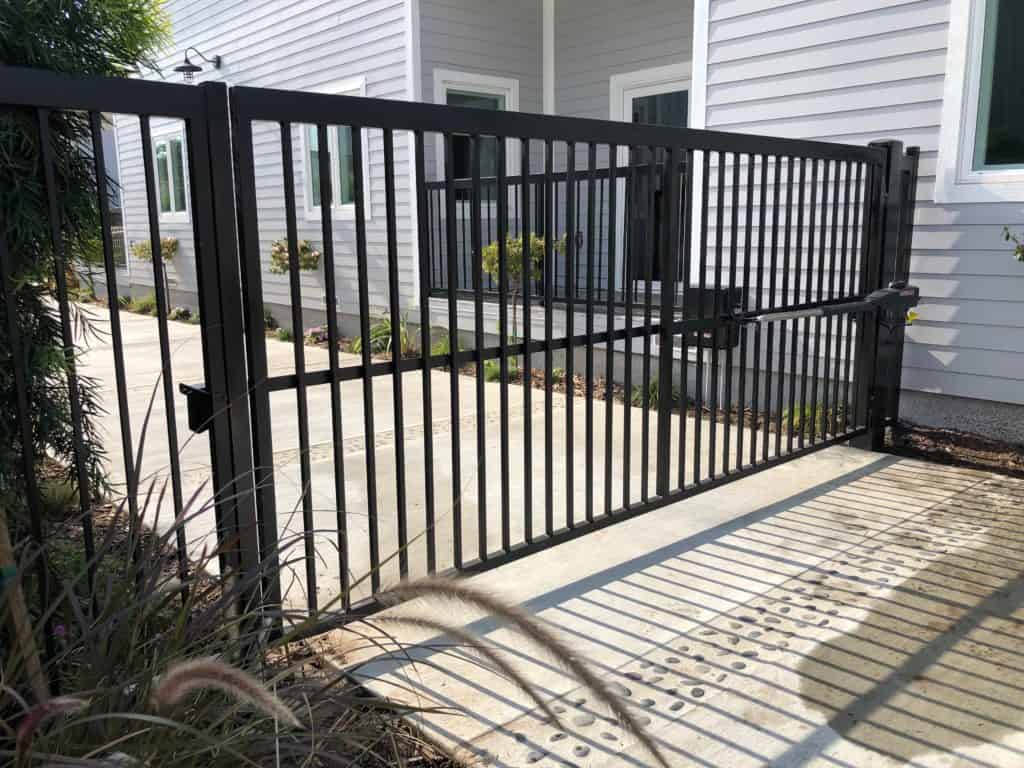 An electric gate or automatic gate is a valuable part of security for your property. Whether you are a business owner or a homeowner, having an electric gate is essential to the security of your property. It ensures that there are no intruders because the controls are not accessible to strangers.
Getting an electric gate installed on your property requires a professional. If you are looking for a professional fence company to install your electric gate in Los Angeles, we are the company to call.
Los Angeles Fence Builders is a company that installs electric gates for both residential and commercial properties. Get in touch with us to get our services and enjoy the benefits of a professionally installed electric gate.
What Are the Benefits of an Electric Gate?
Increased Security
Having an electric gate means that you will be safe in your home at all times. You will not have intruders getting on the property because the gate will be controlled from your house, office, or car. Any visitors you have will have to notify you first, which means that the chances of an intruder getting in are very low.
Additionally, it is a good way to keep your children and pets from wandering outside the home where they are susceptible to harm. If you live close to a busy road, an electric gate is the best way to protect your children and pets from going out into busy roads where they can get hit by vehicles. When you are working late, you can be sure that you are safe because you can open the gate from inside your car instead of getting out to do it manually. It prevents unwanted attention from people that may take advantage of the situation and try to get into your home or business.
Get A Free Estimate!
Getting Additional Privacy in Los Angeles is a Perk
An electric gate ensures that no other person is wandering into your property. The gate will prevent your home from theft by burglars that may access your property when no one is around. Electric gates can also be connected to your smartphone, which means the phone can operate as a remote control. You can get a notification if there is any unusual activity at your premises.
An Electric Gate is Great For Curb Appeal
An electric get guards your home or business against intruders while also making sure that the property looks great from the street. A professionally installed electric gate can make your property look great and can also mean a higher value for the property in the real estate market. If you install an electric gate and need to sell your home in the future, you can be certain that it will have a higher value.
Being Convenient Is an Understatement
An electric gate is convenient because you do not need to get out of your vehicle to open the gates. It eliminates wastage of time when you get to your business place or when you get home at night. If you have any employees in the business place with mobility issues, an electric gate is a good way to make things easier.
Installing an electric gate for your business place is also a good way to monitor people that come to the premises because they have to get the code for the gate if it is a keypad lock. You can also use an intercom system to let in any visitors.
Call us at Los Angeles Fence Builders to get your electric gate installed by professionals. We are the right people for the job.
Why Choose Los Angeles Fence Builders?
Plenty Of Experience
We have the expertise needed to install an electric gate efficiently. We have been doing the job for years and have delivered the great quality of results that our clients hire us for. Also, we can also advise on the best kind of gate to choose (sliding, swing, etc) depending on your needs.
We offer Excellent Craftsmanship
Our installation process is top-quality, and our work speaks for itself. Our expert builders work with you to get the type of gate you need and install it in a style that improves the aesthetics of your property. We can advise you on the best materials to choose for your driveway gate so that you can have maximum security and a great appearance as well.
Always Offering Honest, Clear, And Efficient Communication
We understand how important it is to communicate with property owners during the installation process, which is why we are always available to go through the process with our clients. Also, We also communicate the prices for the job and let you know where there might be a change to avoid any misunderstandings caused by miscommunication.