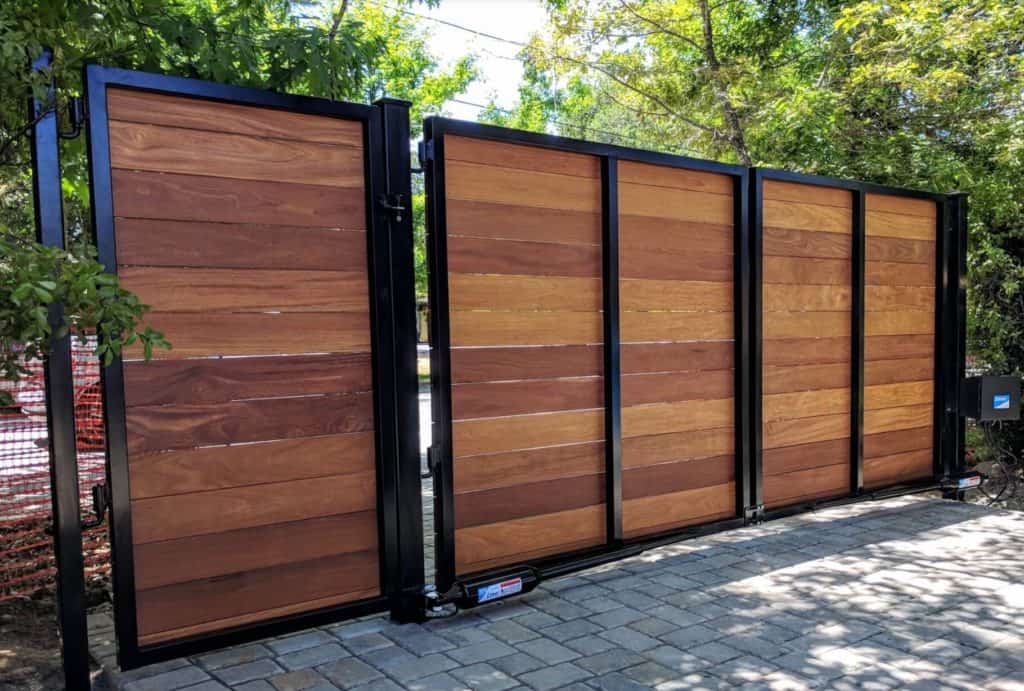 Driveway Gates are a great way to add privacy to your home or business. Living in a busy place such as Los Angeles could become a hassle for you and for your home. Having a secure entrance to your home or business is extremely convenient for anyone living in Los Angeles. However, don't just contact any driveway gates contractor, contact us, Los Angeles Fence Builders. We will help you from conception and design to installation and the finish work.
Driveway gates are an effective way to protect you and your home from trespassers. These structures prevent unauthorized people from entering your home or property.
There are several types of driveway gates that you can install on your property. Each one has a different style and features. At Los Angeles Fence Builders, we pride ourselves on being a trusted driveway gates contractor in Los Angeles. We're also here to help you find the best type of driveway gate for your home.
Automatic Driveway Gate Contractor
Automatic Driveway Gates are extremely efficient when it comes to protecting your privacy. They are great when it comes to stopping people and your neighbors from walking onto your property without permission. We use top of the line gate motors to ensure your gate will be working smoothly for a long time.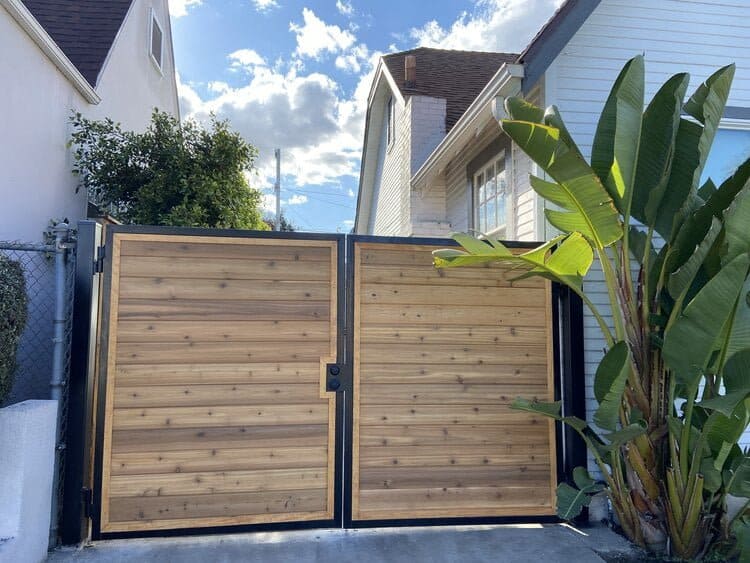 We install automatic driveway gates for both residential and commercial establishments. Our automatic driveway gates are super easy to use since it only takes a press of a button to open or close them. Also, our automatic driveway gates function with the help of two remotes that we provide upon installing the gates. This controls the Lift Master motors that open and close our automatic driveway gates.
We ensure that our automatic driveway gates can endure the wear and tear of everyday use. Also, they come with a three-year manufacturing guarantee. Along with installing new driveway gates we also repair entry gates and driveway gates.
Sliding Driveway Gate Contractor
Another type of driveway gate that we could install for your home or property is the sliding driveway gate. These driveway gates operate differently from automatic driveway gates. These structures use a V-track installed on the driveway so that you could slide your gates close and open when you wish to.
The advantage of using sliding driveway gates for your home is that it only takes a little amount of space. This is because sliding driveway gates move parallel to the road rather than swing towards or away from you and your property. This makes them great for areas with limited spaces and slops.
While we can install gates using different materials ranging from wood, chain link, wrought iron, and vinyl, we highly suggest using steel frames in the gates that we install to make sure that they could stand up to wear and tear better than other materials, such as wood.
Swing Driveway Gates
Swing gates are another popular type of driveway gate used in Los Angeles. They could be categorized into the swing and double swing gates. While they are both common and affordable, we advise you to leave some space for your gates, as these could occupy some space once you open them. But we recommend you to use either a double swing or a sliding driveway gate if your gate is longer than eight feet.
Aside from space, another worry that most people have with swing gates is the noise they create when being opened and closed. This could be a nuisance, especially at night. Nevertheless, we suggest applying a lubricating spray on the gate at least once a year to maintain the durability of these structures by reducing the noise, making the gates open and close smoothly, and prevent rust from appearing.
A swing gate is relatively easy to install compared to other types of gates on this list since it only needs hinges placed on the outer post. And we at Los Angeles Fence Builders will surely help make it easier for you.
Keypad Installations For Residential and Commercial Gates
Many of us have definitely experienced a time when we accidentally left the keys inside the house while going out. It is surely an unpleasant experience that none of us would want to encounter. Luckily, you can prevent this from happening by having a keypad installed on your driveway gate.
Get A Free Driveway Gate Estimate!
Keypads are great since you only need to remember a passcode to open the driveway gates and get into your home. You don't need to worry about leaving your keys inside the house anymore. Furthermore, keyless entry systems are not only getting more trendy but affordable as well. With this, there is absolutely no reason for you to not install a keypad for your driveway gate.
Aside from these benefits, it would be harder for a trespasser to break into a home or property that uses a keypad to gain access since he or she would need to get the code to open the driveway gates. You can also track the people that are coming in and out of your property using your mobile device. This provides you not just peace of mind but also a great amount of convenience.
Conclusion
Whether you have chosen an automatic driveway gate, sliding or swing driveway gate or a keypad installation, you can definitely depend on Los Angeles Fence Builders as your driveway gates contractor. We can help you secure your property and give you comfort without having to worry that someone could enter your home or property unauthorized.