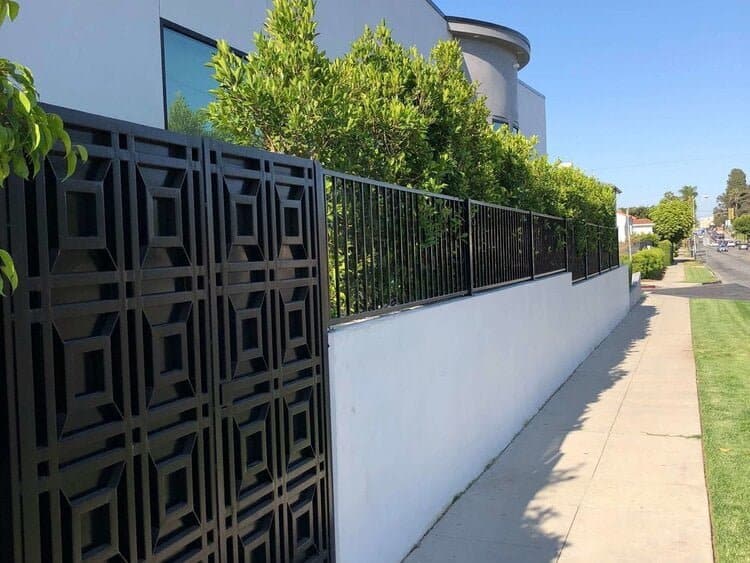 Are you looking to add a Wrought Iron Fence In Santa Monica? The fences around your property serve a variety of important functions. It can also add, or take away, from the curb appeal of your property. When looking into the right fence solution, it is easy to get overwhelmed by all of the fencing styles available.
There are fences to suit every need and budget range. But for those who are looking to add a deep sense of class, wrought iron fences are a great choice. Wrought iron fences have graced the finest properties throughout history. They always add a sophisticated look that is hard to achieve with other types of fencing.
As a leading provider of professional fence installations here in Santa Monica, our company has over 20 years of experience. We provide residential and commercial property owners with wrought iron fences to suit every shape and configuration possible. In the following short article, we provide our expertise on wrought iron fencing. This will help those looking to increase the security and beauty of their Santa Monica home.
The Top Benefits of Wrought Iron Fences
Wrought Iron Fences Are Durable
How long will your wrought iron fence last? When it comes to longevity and durability, there is hardly a better choice than wrought iron. When installed and pre-treated properly by us, your wrought iron fence should be a joy to future tenants. This fence will last on the same property long after you have shaken your mortal coil. If you were to tour the most luxurious homes in Los Angeles, you'll find many wrought iron fences that were built in the 1970s and are still in good condition today. Most other fences have a lifespan of 5 to 10 years.
Wrought Iron Is Timeless
Good fences make good neighbors they say. Humans have been perfecting the functions and styles of their property dividers since we started portioning off pieces of land. While there have been many different options made of every type of material, wrought iron fences are the only style that has maintained well over time. For any type of stylish architecture, a wrought iron fence elevates the overall beauty of the location. Whereas a vinyl or chain-link fence looks tacky and detracts from the curb appeal. Furthermore, wrought iron is a versatile type of fence that can be used in every type of location.
Wrought Iron Adds Security To Your Property
If you are looking for a palisade that can hold back the barbarian hordes, nothing is as formidable as wrought iron. Short of running a tank onto your property, there is not much that will impact the strength of the wrought iron fence. Cheaper aluminum or vinyl options only need a small amount of pressure to give way and provide a breach in your perimeter.
Wrought iron fences, on the other hand, are insurmountable to all but the most athletic and determined. They can then be topped with a stylish spear or arrowhead tip as a further deterrent to intruders. They don't provide much in the way of privacy, but this makes for a more commanding view of your property and the activities that may be occurring just beyond your property limits.
Wrought Iron Is A Low-Maintenance Style Of Fence
Regular care and maintenance are essential for keeping any type of fences in proper order. This is to ensure the greatest value of your investment over time. For every wrought iron fence that has lasted over a century, there are thousands that have succumbed to the elements in a matter of years. The good news is that maintaining a wrought iron fence is fairly simple if it has been properly installed, by a local [city] fence installation company.
While wrought iron can rust, especially in beach cities like Santa Monica, there are protective measures that can be taken. These measures ensure a beautiful long-lasting fence for years to come. Using Stainless steel, galvanizing, and powder-coating are all great ways to keep your wrought iron from rusting.
This really comes down to the durability of the iron fence. Today's options are especially weather resistant. So long as the coat of protective paint is maintain and rust is not give a chance to set in, your iron fence is just fine. Of course, if you want that original black glossy look a little soap and water will restore your fence to its original luster. With just a few hours of work a couple of times a year and a few regular inspections, your iron roof will be well-maintained.
Final Notes on Wrought Iron Fences in Santa Monica, California
Wrought iron fences provide an endless amount of benefits over a long period of time. Wrought Iron is also the choice selection for classic architecture and distinguished commercial locations. To enhance the benefits of your wrought iron fence, it all comes down to the quality installation and the materials you choose. For this reason, you need to call the experts in wrought iron fence in Santa Monica. Call Us Today! (424) 625-8561 To schedule an appointment for an estimate!