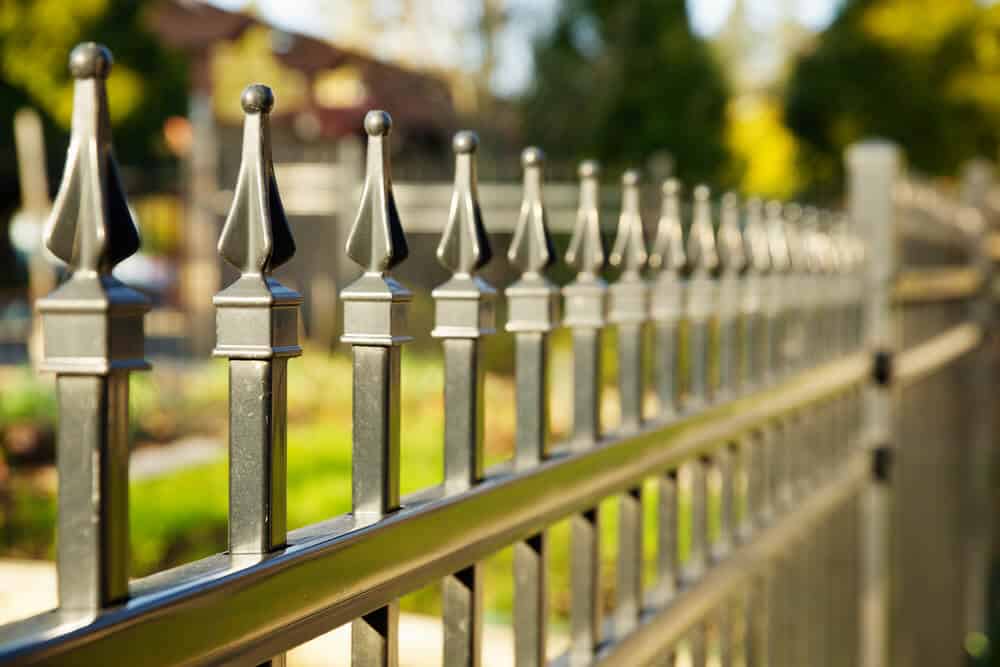 On choosing fence products to use when building a fence at your home, you'll only have to think about the costs. The cost of spending on the materials at the beginning and the cost of maintaining them in the long run.
Additionally, you have to take into account the environment where the fences will be standing if they will be able to hold up as well as your personal preferences in design.
Also, take into account that none are maintenance free. Other alternatives such as aluminum fences are not maintenance-free as well, you will have to do your part in maintaining your fence and paying for maintenance costs.
So, in the interest of helping you make a decision, here are the facts about metal and wooden fences to help you pick the right type of fencing options.
Aesthetics
Wood fencing: able to bring your senses back to the past and has the appeal. It's very noticeable and you will feel at home with its earth colors. It can be stained or painted as you desire.
Metal fencing: first seen as cold and unwelcoming. But newer choices offer unique aesthetic designs that include aluminum, wrought iron and galvanized steel. Accessories such as finials, knuckles, ball caps and rings are also offered by manufacturers.
Performance
Wood fencing: absorbs moisture and deforms in sudden changes in temperature. In the long run, it has a high risk of rotting and deterioration.
Metal fencing: very durable, will not degrade nor deform, and will not be food for termites. Other manufacturers offer concealed pin-hinge systems for it to be able to endure stress without fatigue.
Maintenance
Wood fencing: needs frequent maintenance to keep it at its best. To keep its beautiful look, it has to be painted, sanded, primed and refinished every couple of years.
Metal fencing: rarely requires maintenance for best performance and doesn't need to be painted. Most options are covered with a powder coating of zinc to decrease rusting and corrosion.
Installation
Wood fencing: is simple to install. However, it shrinks ¼" after it dries from fence installation, which can leave hidden gaps in the fencing system. Wood panel gates also expand during winter because of changes in temperature which make it difficult to open tightly set doors.
Metal fencing: has a lot of weight, is stiff and can be hard to install. A solution for this by a number of manufacturers is to engineer pre-assembled systems for easier installation. They can also adapt to uneven terrain.
So, What Should I Choose?
Metal Fencing: Summary
With aluminum and steel fencing, you can customize your fence design mostly if you appreciate ornamental aluminum or iron fencing. Despite this, a majority of people still favors ornamental iron fencing as it mimics wrought iron fencing at a better deal.
Wooden Fencing: Summary
Wood is cheaper than metal, if you have a limited budget, it's ideal for you. However, this doesn't last as long as a metal even with maintenance. In the end, it all comes down to personal preferences and your desire for privacy as Austin homeowners are attracted by wooden fencing because of its aesthetics.
Final Elements to Consider
Cost
Wooden or wooden/aluminum fence panels are generally cheaper than metal ones. However, having a wooden fence brings other hidden and extra costs which makes it more expensive in the long run. But if you only want it to be temporary, continuous wood fencing is easy to install and only uses cheap materials which would be more sustainable in the short run.
Eventually, it would be much more practical to go for a metal or hardwood fence because it requires little to no maintenance and will definitely last longer. The best thing to do is do your own research to be knowledgeable about the costs especially if you plan to push through with a wooden fence with short-lived benefits.
Variety
Metal fencing is available in a number of different styles and colors but with its limited domestic uses and lower popularity there are relatively few to choose from and it can be hard to find the stock. There are a number of options for wooden fence panels such as picket, privacy, trellis and a variety of green wood. You can also opt to mix two materials for better options!
Wooden fencing is trendy, with thousands of accessible suppliers offering them in a variety of shapes, sizes and materials. There are a lot of things you could build like slatted fences, picket fences, close board fences and others using wood. This can not be done with a composite fence.
Security
Wooden and metal fencing have their pros and cons, there is only a significant distinction in their value.
Metal fences can be very costly but building them with similar materials in a commercial property with a high-security installation will offer pristine protection.
Wooden fence panels can also be made to order with ornate designs that look like they could stop an elephant. Depending on what you are trying to keep out, wooden fencing should be adequate for most domestic security needs. The only place where metal fencing could be advantageous is to stop heavy impacts and people or animals climbing over the top.
Wood Fence vs Metal Fence, the Choice is Yours
In conclusion, it is important to understand the different environmental impacts and benefits of wood versus metal fencing. This is especially important because your home is in Los Angeles, a prime location. While both have a similar installation cost, they differ in other ways.
Wood does not require as much maintenance, but can become costly if you have a large area that needs to be covered. It also has a shorter lifespan than metal fencing because steel, iron and aluminum will last decades without needing to be replaced.
On the other hand, wooden fences are available in many more shapes and varieties including picket style for privacy or trellis fence panels which offer shade from sun or snow coverage while keeping intruders out.
Wood fence vs metal fence options have their pros and cons, and you must decide based on what you aim to prioritize.