What Type Of Fence Is The Most Durable?
When investing in a new fence you want it to look nice, keep you secure and give you the privacy you desire. But the number one question we get asked here at Los Angeles Fence Builders is, "What type of fence is the most durable?" In all our purchases its important to whatever we buy is made to last. We couldn't agree more!
But like most things, fencing and gates are not immune to breaking down over time. Being exposed to the weather and the elements can cause your fence to rot, split and rust. But we are here to show you the most durable fencing types so when you purchase a fence it will last!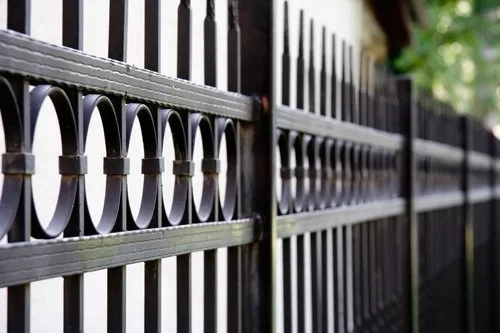 1. Wrought Iron
Wrought iron fencing is one of the strongest and most durable material available. Most commonly used for commercial and fencing for businesses such as warehouses and industrial areas. Most business owners understand that fencing can be expensive so replacing it is not something they want to do very often. Most wrought iron fences are vertical pickets with strong 2x2 posts and 1x1 pickets. Wrought iron is also available in privacy form to keep your outdoor warehouse private and dissuade theft or any unwanted attention.
Wrought Iron is not just for commercial use. Many homes install wrought iron fencing and gates for the sole purpose of durability and its long lifetime. One of the greatest benefits of having a wrought iron fence is it won't splinter or crack like wood. Its strength is one of its top selling points for many buyers. If you are thinking about adding a wrought iron fence to your home or business, visit our gallery and fill out our online form for a free in-person consultation. WROUGHT IRON GALLERY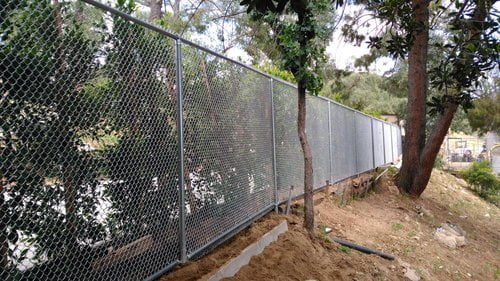 2. Chain Link
Chain Link is our next on the list of most durable fences types. Chain link is not just durable but is versatile as well. With quick installation times and easily one of the most affordable types of fencing, chain link is one of the most popular materials to choose from.
Chain link is popular for commercial businesses in need of closing in a parking lot or cutting off an area they wish to make private. As mentioned earlier chain link is the most affordable of the fence types with quick installation times which bring the labor cost down significantly.
Chain link is also versatile and comes in a wide variety of styles and colors. Chain link's most common colors is black and green, but besides that standard galvanized is its most common form. Chain link also offers the option to add privacy with privacy slat inserts. Other add-ons include barbed wire, razor wire, snake wire, windscreen and more.
Chain link is most commonly used for parks, tennis courts, dog runs and industrial areas. But chain link is not just for parks, parking lots and industrial areas. Chain link has been used in residential areas for quite some time and helped neighbors keep in pets for a reasonable price. Chain link stands as one of the most durable, long lasting fence types, that just happens to be easy to install and easy on the wallet. If you are looking to install a chain link fence, visit our chain link fence gallery and fill out free estimate form to get the process started. CHAIN LINK GALLERY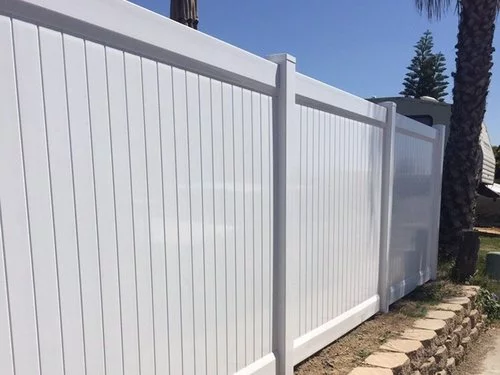 3. Vinyl Fence
Vinyl fences are extremely popular due to the fact that they are almost 100% maintenance free. Vinyl fences hold up very well to all weather types including very hot climates and very cold climates. Vinyl also does extremely well with moisture. However, not everything is rainbows and sunshine with vinyl fencing. Unlike chain link, vinyl fences are not all made equally. Based on the manufacturer, the quality may be better or worse. So, like leather, get touchy feely with the vinyl buying process. Be sure to ask questions like, "does my vinyl fence come with a warrantee?" And "for how long is the warrantee?" And "What does the warrantee include?"

Beyond the simple white vinyl fencing, vinyl has come a long way and offers many styles and textures to choose from. Depending on the manufacture, some fences can come looking and feeling like a wood fence. Vinyl fences are not the most affordable however it does rank as one of the most durable kinds of fencing. If you are interested in having a vinyl fence installed, visit our gallery and fill out a free estimate form.
If you are interested in having us view your project fill out a free estimate form below and we will schedule a free in-person consultation followed by an itemized estimate. If you have a specific fence question call us today and talk to a fence expert with over 30 years of fence installation experience. We look forward to hearing from you and helping you with your next fence project! VINYL FENCE GALLERYTALK TO A FENCE EXPERT NOW