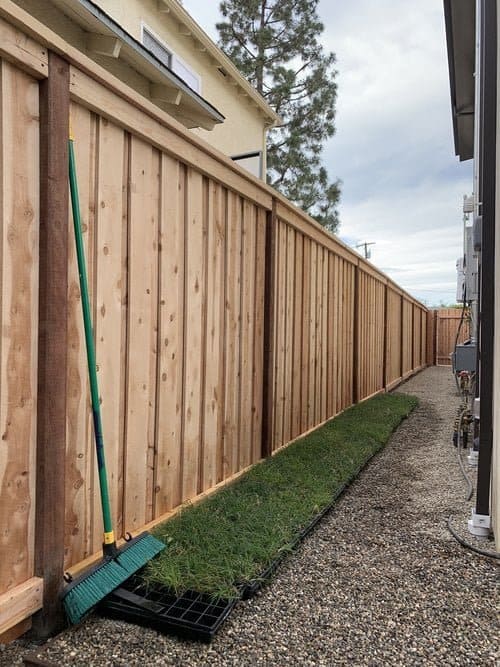 How to pick the right fence for you?
Picking the right fence is a daunting task. Knowing which style to choose, and for what purpose? It can be a lot to research to take on. Luckily, we have created a list of our top 4 most popular fence styles and have given you a quick summary of each to help you be a more informed buyer!

Wooden Fences
Wood is a versatile and strong material. Best of all, it can be cut into any design imaginable to suit traditional structures or more modern aesthetics as well. They are also available in every color you could possibly imagine and simple repainted when they begin to lackluster. Low-cost maintenance is one of the finest things about wooden fences because any individual damaged section can be replaced at a low cost.
In the end, wooden fences tick all the boxes. A quality wooden fence installed by our skilled professional fencing services could last 10 years or longer. Furthermore, because they are made of 100% natural and sustainable materials they will have no negative impact on the environment.
There is nothing quite as stately and grand as a wrought iron fence skirting a classy estate. Wrought iron just smacks of opulence and next-level distinction no matter the size of the property. Of course, this option is one of the more costly materials to purchase and install. It also doesn't provide much in the way of privacy.
Maintenance will not even be a problem as long as you keep up with a quality paint job every few years –– glossy black is classy but this can also be done in any color imaginable. Furthermore, it can be chosen for its specific security capacity as well.
Perhaps, the most cost-effective fencing option on the market, the chain link fence is a very versatile solution as well. In a residential situation, these are best for keeping pets and kids inside the property and can even be fitted with slats to add some privacy to the property. But, they are fairly easy to climb over. Unless, they are built especially high and topped with barbed wire, which is not a good look for a home.
But, the chain link fence will never need to be taken care of once it has been installed. It will withstand the wind, the rain, and all insect attacks. They are not likely to rust either. The biggest downside is that it chain link fences aren't very attractive –– but there are some ways we know that can pretty them up a bit.
Vinyl fences have become the materials of choice over the past few years. Not only are vinyl fence very strong and highly versatile, but they can also be found in a huge variety of styles to suit every house type. They are also very durable and can outlast all other fencing types with the exception of wrought iron fences. Vinyl doesn't rust or rot or get attacked by insects and it can also be repaired in sections as needed.
The property owner also has extensive choices about how much privacy they would like
Vinyl is versatile material and provides plenty of privacy if needed, different options can be selected to allow limited views. The final and perhaps most important reason to love vinyl fences is that they are so beautiful and will remain so for a considerable time. After they have become dirty, it is each to clean them with gentle soap and water.
Conclusion
In the end, the best way to ensure your fence lasts a long time and serves its purpose best is to have a local professional handle this important work. It takes skill, experience and special attention to the needs of the client that provides the best results in the end –– this is what you can count on from Los Angeles Fence Builders. If you are still unsure about what type of fence to choose or have a specific question feel free to give us a call at (424) 625-8561. Or fill out the form by clicking the button at the bottom of this page!