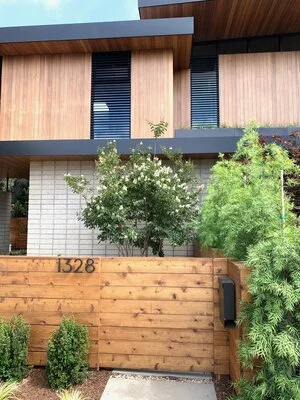 Since we have a variety of fences to choose from, our customers love the choices. You will want to consider the different ones that we offer so that you can make the best choice possible. Here are the four styles of fences that we offer:
1. Wood Fencing - A wood fence is something to be proud of. Your home and property will look fantastic when you have a wood fence from us. This will give your lot a traditional feel to it and a great look that will please you. Other people will compliment you on your choice of fencing for your property.
2. Wrought Iron Fencing - Want to make a statement with your fence that will get people to notice? You want to get our wrought iron fence. This will make an impact and is also great for keeping strangers out of your yard. Consider the wrought iron fencing option that we offer for a great look.
3. Vinyl Fencing- A vinyl fence is also an option. Talk about holding up in any kind of weather. All of our fences will hold up in any weather and the vinyl one is no exception to the rule. The color that you pick will also create a great addition to the aesthetics of your property.
4. Chain Link Fencing- The chain link fence will give a different kind of look. It is also protective too. We can tell you all kinds of reasons that you will want to consider this type of fence from us so just ask our team members about the plusses of getting a chain-link fence.
We have the most reasonable prices in the industry. You will find that we are affordable and that you will find our prices will fit your budget. We offer convenient payment options, like cash, check, and credit cards. Since our products and services are guaranteed to please, you will be satisfied with our work.
The Fences We Have Are The Best
Our fences are made of the best materials available. We take great pride in this and our services are excellent too. You will find that our work is impeccable and our many customers can attest to that. You can be assured that we will do an excellent job for you and that you will love it.
Do You Need A Fence?
We can help you to figure out the right fence for you and the many reasons why a fence is in your best interest. You can mark your property line with a fence, keep other people and animals out of your yard, make a safe place for kids and pets to play, and have a great look for your property when you have a fence. One of our fences will really make your lot look great.
Our Fences Can Make Your Home Worth More
In terms of home improvements, a fence can make your house worth more when you want to sell it. Getting a fence that looks great is important. You will get the quality and the style that will make your house command a higher price when you are ready to sell. This is an addition to your property that will not only look great but also provide a function too. Your property will be enclosed for protection as well as for looks.
We Put You First
At San Jose & Sons Fence Company, we put you first. Our customer service is fantastic and we welcome your questions at any time. Since our team members are exceptional, they will assist you in any way that they can. We also offer you the convenience of an open schedule to come to your home to put up the fence. This will allow you to make plans with us at your convenience so that it doesn't interfere with other things that you need to do.
The Quality Of Our Fences Can't Be Beat
We only use the very best materials when we set you up with the fence that you want. You will be able to see the difference in the materials that we use versus the competitors in the field. Since our customers are always completely satisfied with the materials that we use, we are sure that you will be too. We only use the best materials and you will be pleased with them. Since our work is the best, we know that you will be pleased with what we can do.
Keeping Your Fence Looking Great
After you have your fence put up, our team members will also let you know about caring for them properly. They will let you know what you need to do in order to have them look fantastic for a long time to come. With their knowledge and expertise, you will want to take all that they can teach you for your later use. Feel free to jot down notes so that you can keep your fence looking great.
You Will Be Pleased With The Work That We Do
We are sure that you will be pleased with the work that we do. Since our many customers have all been more than satisfied, we know that you will be too. Make sure that you call us today at San Jose & Sons Fence Company so that we can begin the process of putting up your fence.
We Know That You Will Love Our Fences And Our Work
You will be pleased with all that we have to offer you. It is as simple as contacting us at San Jose & Sons Fence Company so that we can get the process started as soon as possible. You will really love what we can do with fencing for you. Remember, we love to answer any questions that you might have so ask your questions when you have them. It is our pleasure to assist you in any way that we can when you do business with us at San Jose & Sons Fence Company. Just contact us as soon as possible. At San Jose & Sons Fence Company, we are there to offer you the very best in fences and we will be able to assist you with your needs. Make sure that you tell us what you need and we will do everything in our power to make sure that the job is done to your specifications. We are a company that puts our customers first at all times and you will see how this is true.
Having a fence is something that many homeowners are doing on a regular basis. You will see why you will want to have one too. Contact us as soon as you can and see why our fences are the best. We look forward to hearing from you at San Jose & Sons Fence Company to give you the fence of your dreams.