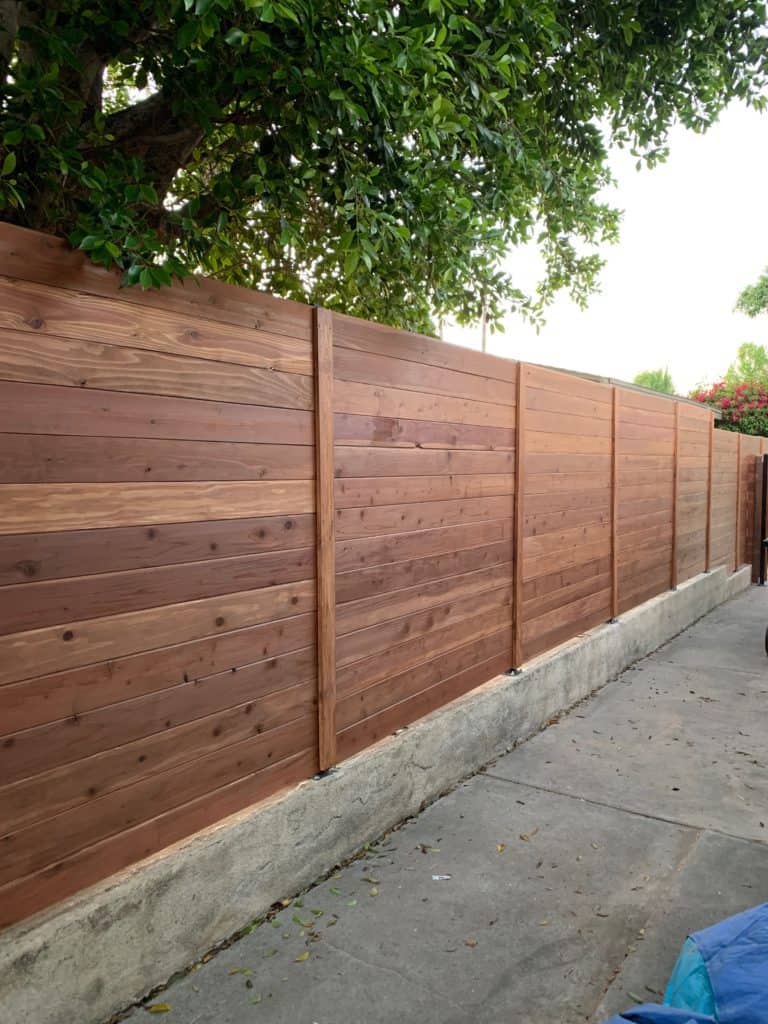 A redwood fence has become a popular choice among homeowners in Los Angeles. This type of fence is unique not only in appearance but also because of the numerous advantages that other types of wood fencing do not. Redwood fencing in Los Angeles is a good choice if you aim for durability. It is also advisable to have an expert install the fence to ensure a good quality Fence installation process. If your fence is installed by a professional, you will not have to worry about making repairs too soon after the installation.
Are you a resident of Los Angeles that needs an experience redwood fencing contractor? Call us at Los Angeles Fence Builders to get expert redwood fencing.
What Benefits Will I Get From Adding a Redwood Fence?
Durable - Redwood fencing is great because it is resistant to warping and decay. It is also not prone to attacks by insects such as termites that can destroy wood fences. The wood secretes naturally occurring oils that prevent insects and pests from attacking it. Redwood fencing in Los Angeles can last for up to 25 years as long as it has proper maintenance. When installed by a professional such as us, redwood fencing will be able to protect your property for a long time such that you will not have to invest more money into a new fence. You also don't have to deal with fence replacements now and then. Additionally, you do not have to keep treating the fence to prevent attacks by insects, which saves you costs.
The Longevity of Redwood Fencing in Los Angeles
Most wooded fences do not last because of the temperatures in Los Angeles. However, redwood fencing is resistant to moisture and temperature changes. Even with intense weather shifts, it will not succumb to warping. It does not decay because of moisture from too much rain, especially when coated with clear-stain wood preservatives. With this kind of protection from algae and moss, you can be certain that your fence will last for several years.
The Unique Look of A Redwood Fence
The name redwood comes from the reddish-brown hue that the wood has. When you use redwood for your fence, you will not have to spend extra costs trying to get colored stains for your fence so that it can look better. You already have the unique look that comes with the fence. With a proper wood sealer, your fence will maintain the color for a very long time. There will be no change in color over time even when it is exposed to hot sun and rain. Apart from that, the wood is easy to clean, and you only need a commercial cleaner to keep it looking new and shiny. Since it does not get damaged by moisture, the cleaners will be appropriate to use.
The Price of Redwood Fencing Is Worth It
Although most property owners may feel that the price for redwood fencing is a tad bit higher than other types of wood, the benefits it provides mean that it is cost-effective. It requires very little maintenance and will not need to be replaced every few years. The initial investment is worth it in the end.
Choose Los Angeles Fence Builders to install your redwood fencing in Los Angeles and have a long-lasting fence that is attractive and durable.
Why Choose Los Angeles Fence Builders For Your Next Redwood Fence?
Expertise - With our company, you will be able to get the look you have in mind because of the expertise we have. Our numerous years in the industry enable us to give high-quality installations and standards that are unmatched.
Reliability - We are a company that believes our clients are the priority, so we work hard to meet the standards we promise.
Craftmanship - We only use the best wood to install fences and have unique skills to give you the results you want.
If you are looking for a fence that isn't wood, we do that too! Check out our Wrought Iron, Vinyl, and Chain Link Fencing options. Not looking for fencing? We build, design, and install driveway gates and entry gates. Call us today for a free estimate on your next outdoor project!
GET A FREE ESTIMATE TODAY!