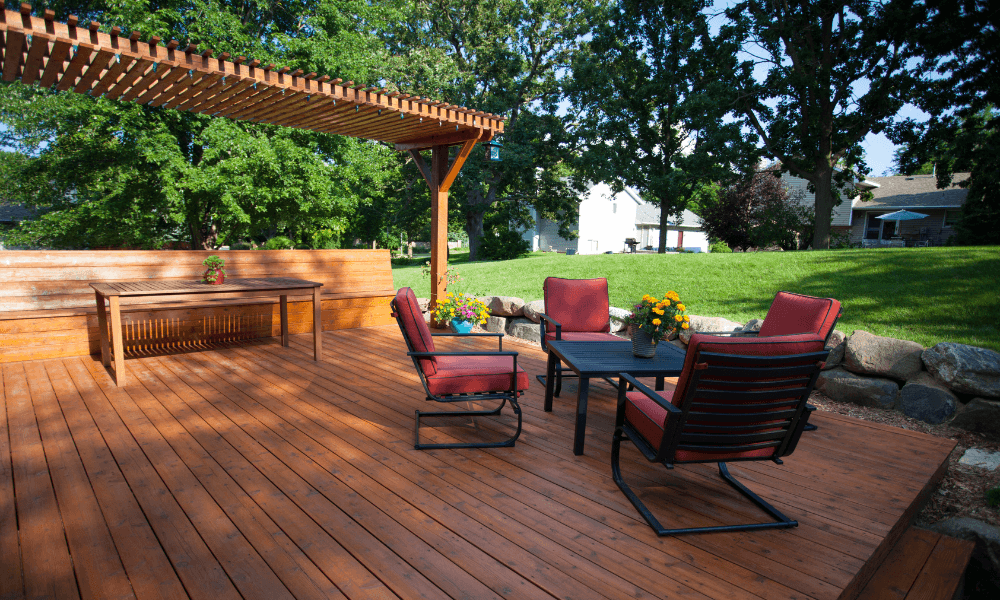 Los Angeles is a city that boasts great weather, and what better way to enjoy the sunshine than to relax on your very own deck? Building a deck can significantly increase the value of your property while providing a relaxing outdoor space to entertain family and friends. However, the cost of deck installation can be a deterrent for many homeowners. In this article, we will explore the different ways to install an affordable deck in Los Angeles.
Researching and Planning Your Deck
The first step in installing an affordable deck is to research and plan your project. This involves determining the best wood deck design for your space, choosing the right materials, and ensuring your deck meets local regulations. By doing so, you can avoid costly mistakes down the line.
When researching deck designs, consider the size and shape of your yard, your desired level of privacy, and your budget. You can find inspiration for deck designs online or consult with a professional deck builder. Additionally, make sure to check local zoning laws to ensure your deck meets any height or setback requirements.
Building Materials
Choosing the right decking material is crucial to keeping your deck affordable while also ensuring its longevity. Consider the cost per square foot. The most common materials used for deck installation include pressure-treated wood, composite decking, and PVC decking. Pressure-treated wood is the most affordable option, costing around $2-3 per square foot, but it does require yearly maintenance. 
Composite decking is more expensive, with a cost to build at around $5-7 per square foot, but it requires little maintenance and has a longer lifespan. PVC decking is the most expensive, costing around $8-10 per square foot, but it is the most durable and requires no maintenance.
When choosing your existing deck material, consider your average cost, the durability of the material, and the level of maintenance required.
DIY Deck Installation
DIY deck installation is an excellent option for those looking to save money on their home improvement project. However, it is important to note that DIY deck installation can be a time-consuming and challenging process. Before embarking on a DIY deck project, make sure to do your research and familiarize yourself with the necessary steps, tools, and materials.
Some of the pros of DIY deck installation include saving money on labor costs and having complete control over the design and build process. However, some cons include the potential for costly mistakes, the time commitment required, and the need for specialized tools and equipment.
If you decide to embark on a DIY deck installation, make sure to follow all safety precautions, use high-quality materials, and consult with a professional if you have any questions or concerns.
Hiring a Deck Installation Professional
A professional deck builder can also offer valuable insights on how to make the most of your available space, incorporate existing features like trees or water features into your design, and suggest creative ways to personalize your deck. They can also provide recommendations on which materials to use based on your needs, preferences, and budget.
Another advantage of hiring a deck installation professional is that they have the necessary tools and equipment to complete the job efficiently and safely. This can save you time and reduce the risk of accidents or damage to your property. They can also take care of obtaining any necessary permits and approvals from your local authorities, which can be a complex and time-consuming process.
When selecting a deck builder, it's important to get a detailed estimate of the cost of the project, including materials, labor, and any additional fees or expenses. Comparing multiple quotes can help you find a deck builder that offers competitive pricing while still delivering high-quality work.
Financing Your Deck Installation
Another way to save money is to plan your deck installation during the off-season, as some contractors may offer discounted rates during slower months. Additionally, purchasing materials in bulk or shopping around for the best prices can also help you save money on your deck installation.
If you're planning on financing your deck installation, it's important to evaluate your options and choose a financing plan that fits your budget and financial goals. Personal loans and credit cards can offer quick access to funds, but may come with higher interest rates and shorter repayment terms. Home improvement loans, on the other hand, may have lower interest rates and longer repayment terms, but require collateral and may take longer to obtain.
Before deciding on a financing option, make sure to do your research and compare offers from multiple lenders. Look for lenders that specialize in home improvement loans or personal loans, and consider factors like interest rates, fees, and repayment terms. Additionally, make sure to read the fine print and understand the terms and conditions of the loan, including any penalties for early repayment or late payments.
Maintaining Your Deck
Once your deck is installed, it is important to maintain it to ensure its longevity and avoid costly repairs. This includes regular cleaning, staining or painting, and replacing any damaged deck boards.
Common deck maintenance mistakes include neglecting to clean your deck regularly, using harsh cleaning chemicals, and not replacing damaged deck boards promptly. By avoiding these mistakes and following best practices for deck maintenance, you can extend the life of your deck and save money on costly repairs.
To clean your deck, sweep away debris regularly and use a mild cleaning solution and a soft-bristled brush to remove any stains or dirt buildup. Avoid using harsh chemicals or pressure washing, as this can damage the surface of your deck. Depending on the material of your deck, you may also need to stain or paint it every few years to protect it from the elements.
If you notice any damaged deck boards or hardware, replace them promptly to prevent further damage to your deck. Regular inspections and maintenance can prevent small issues from turning into larger, more costly problems.
Contact Us
Installing an affordable deck in Los Angeles is possible with the right planning, materials, and maintenance. By researching and planning your project, choosing the right materials, and considering DIY options or hiring a professional deck builder, you can create a beautiful outdoor space that adds value to your home. Additionally, financing options and smart maintenance practices can help you save money in the long run.
If you're looking for an affordable deck installation in Los Angeles, consider reaching out to Los Angeles Fence Builders. Our team of experienced professionals can help you design and install a deck that meets your needs and budget. Contact us today to learn more about our services and how we can help you create the outdoor space of your dreams.