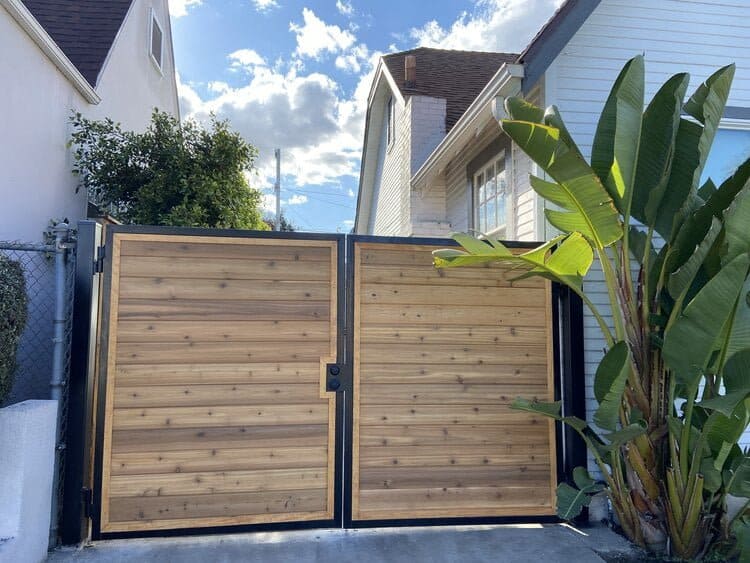 The Perfect Driveway Gate - Are you looking for a driveway gate company? Work with us and you'll get a new gate that is totally worth the investment. You want to do your research on gate types so you can get one that is nice and suits you. Here are some tips so you can get a driveway gate installed that you'll love.
DRIVEWAY GATE INSTALLATION IN LOS ANGELES
We are located in Los Angeles, CA so you can work with us if you're in or around that area. It's a good idea to let us know when you want a gate put in. This is because we can send someone out right away. This will make your dream a reality. Even if we're not right near you we can travel a little to get the job done. Let us know what you need over the phone. After that, we will come to visit you in person and discuss your driveway gate!
Should you get an automatic gate or a manual one? Have you been wanting to drive up to your home without doing anything more than pressing a button? Then, you're going to want to go with an automatic gate. A manual one is going to require you to open it yourself without electronics helping you out. You can lock either gate so they are both a safe option, it's just a matter of what you'd prefer. Most people will like automatic gates but they can add to the overall cost.
ADDING A DRIVEWAY GATE TO YOUR HOME
The perfect driveway gate can be made out of a lot of different materials. The types we offer come in wood, wrought iron, vinyl, and chain link. Think of what you'd like the most. Do you like the look of it? All of the materials we use can last you a long time if you keep them in good shape. The only thing to watch out for is running into the gate on accident. (We've seen this a few times).
When you have a gate that you want to replace, you shouldn't do the work on your own. You may think that it's just a matter of taking the old gate out and putting a new one in its place, but if you don't install a gate properly it will end up having a lot of problems later on down the road. For instance, if it gets windy and you didn't install a gate properly, you're going to find that it is likely to fall. When you have a gate put in by us, you don't have to worry about it having these types of issues.
ADDING A DRIVEWAY GATE TO YOUR BUSINESS
Let us know what your budget is and then we can let you know what kind of gate will work best for you. Of course, if you want us to use an expensive type of wood then it's going to cost more than something like a vinyl gate. But, if you want the gate to last and look nice you're going to probably want to spend a little more than the cheapest gate you can get. It's really up to you and what you want to get but we can help you choose based on your budget if need be.
Your gate needs to protect your property. You can get a gate that is tall so that people are less likely to climb over it. Of course, it's a good idea to get a secure gate even if you're not worried about people getting in. Also, if you'll want to make sure that it will stay locked when you lock it.
DRIVEWAY GATES ARE DURABLE AND SECURE
If you damage your gate, let us know and we can come out and get it back in working order. For example, if you back into the gate on accident and need a part of it replaced, we can do the work. Don't wait too long to get a gate repaired because you need to make sure it doesn't have a lot of problems that stem from the original problem that you noticed in the first place.
Now you know that you can work with our driveway gate company and come out happy with the results. You want to take your time with this so you can get a gate that you know is great for your home or business. Contact us right away if you have any other questions!
CONTACT US TODAY
We install all kinds of gates all over Los Angeles, Ca. From residential gates to commercial gates. Contact Us Today for a Free Estimate! Call To Learn More About Installing The Perfect Driveway Gate for your Home or Business.